The adjustment mechanism for the Driver seat is controlled by a single switch operation powered by a single motor for fore/aft, reclining, and vertical adjustments.
Toyota Compact SUV segment will be the first to make use of this technology.
6-way power driver seats -standard equipment
In a world's first, Toyota Boshoku has developed an adjustment mechanism for the driver seat in which fore/aft, reclining, and vertical adjustments are all powered by a single motor and controlled with a single switch operation. In the Traditional Seat system where each movement is managed by separate motors at respective positions. With one single motor at one position, this new way to transmitting power from a single motor reduces weight, frees up space and provides optimized components for compact SUV power seats, while preserving the same seat functions.
This way of management shall also help to reduce wire harness layout, connectors, space. This adaptation in terms of cost, weight, assembly would be compensated by flex shaft and gearbox.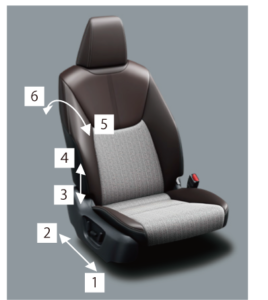 6-way operation
Technology Summary

The single motor positioned in front transmits power by flex shaft to the clutch box unit with built-in manual clutches that transmits driving force according to the Control Knob operation input. This enables a six-way operation driven by a single motor. Each knob has a pivot at one end and a free end that allows movement based on position.
On the Backrest, the gear unit is based on an outboard which is connected by a flex shaft to the clutch unit.
The lifter unit, which is the closest to the clutch box, uses a gear unit with a sector pinion system that is connected by the smallest flex shaft.
For the Slide Assembly, Flex shaft transmission the power to Unit which is Close to Inboard slide. The connection shaft for the power transmission between two Slide is mid-mounted.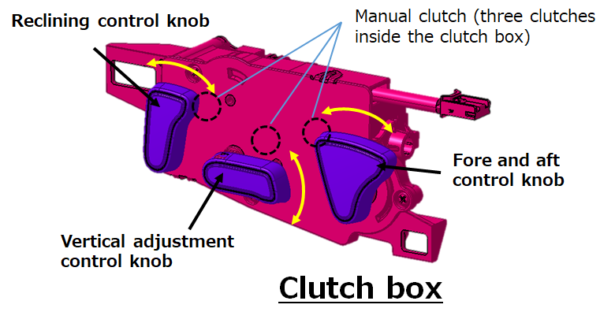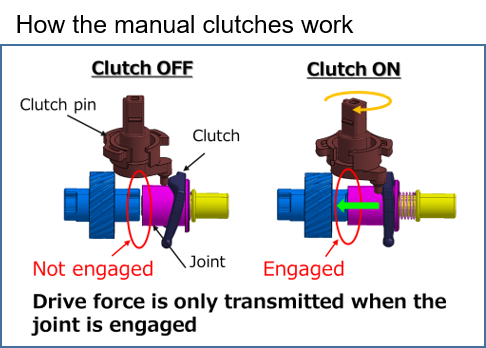 Toyota Boshoku has developed a completely new clutch box first of its kind for this requirement for the compact SUV segment. More than 90% of Driver seat in the Market are 6-Way Power seat so it makes. Toyota Boshoku has registered five patents and five public notices of application with examination pending.